The Betty MacDonald Network™
A literary society and fan magazine
Welcome to our open, community supported fan site for American author and humorist Betty Bard MacDonald.
Register to Participate
Join The Betty MacDonald Network and add your own perspective on this popular writer and humorist.
Your personal profile will have a form on which you can add comments and personal news. Your contact data will be kept private, and the only content restrictions are that your posts must be non-commercial and family friendly.
Click here
to register. Registered members,
sign in here
.
Journal Updates
Updates are back! What are updates? Updates are personal news and comments by members. They are created from the member profile. Updates do not have threading for running commentary; for that, continue to use the Forums.

Frank Alexander
21-May-2018
We're experimenting with advertising to help us keep FOBM on line. Comments are welcome. Thanks for understanding. FA

Frank Alexander
11-May-2016
Win friends and influence people with your stunning good looks! Post a photo of yourself in your profile. Use a JPEG or PNG smaller than 200Kb.

My biography of Betty is now available on Amazon, entitled 'Betty: The Story of Betty MacDonald, Author of The Egg and I'. Hope you like it.

Passing through Chimacum en route to "Town" last week I happened on the Chimacum Café, where eggs are on the menu about 16 times.
bettymacdonald.net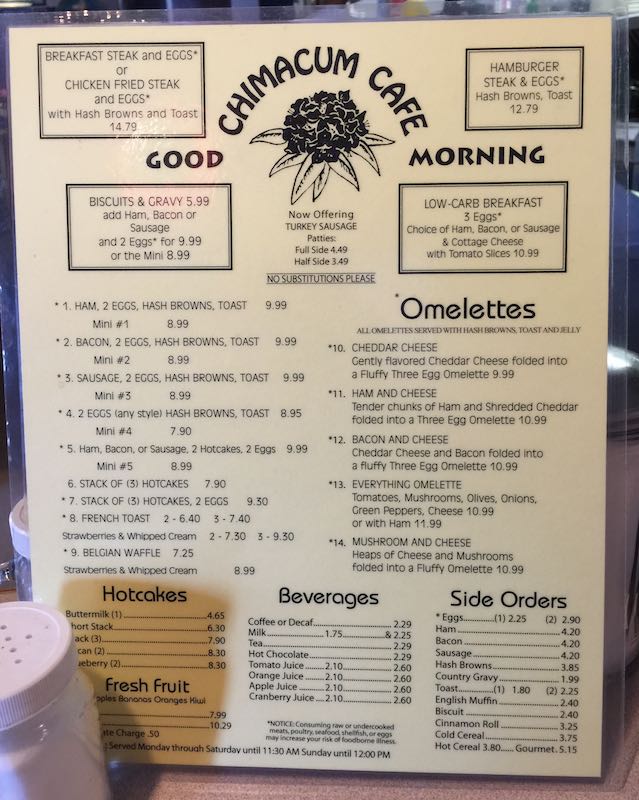 I'm from the UK, and first read Betty MacDonald's books as they were favourites of my mother's. This was in the 1960s and 1970s. I like 'The Egg & I', 'The Plague & I', and my absolute favourite remains 'Onions in the Stew'.

hi. is anyone still on this site? i am a huge fan and have stayed in the B and B that the Vashon house became. can anyone tell me why Betty died so young? i have most of her books, i especially love anyone can do anything!

The Book Club of Washington has published a recently discovered short story written by Betty Bard before her marriage to Haskell or MacDonald. It is a fine press limited edition of most likely the earliest (1933) published work of MacDonald. For...
bookclubofwashington.org

Hello all! I swear I used to have a membership but have not visited the site for a while. I opened a new one since my email could not be recognized. Just received a copy of The Book Club edition of ACDA so my collection continues to grow.

Frank Alexander
10-Apr-2015
The member list now includes activity icons and an abbreviated version of your membership statement. This would be a good time to sign in and post updates and/or a new statement.

John Crawford
04-Apr-2015
I am going to sell all 4 of my Betty books and my two Mary Bard books. The Egg & I and Onions in the Stew have their original covers. I am asking $50 for all six books plus $5 shipping. I only accept paypal and only ship in the USA.

Frank Alexander
04-Apr-2015
It seems the Betty house on Vashon Island is now participating in AirBNB. See the adjacent link for info.
www.airbnb.com

HAPPY BIRTHDAY, Betty! Be sure to check out the many wishes on Betty's Facebook page, too!
www.facebook.com

Frank Alexander
25-Mar-2015
Glad to see the old crowd back in the fray! Watch for further updates this spring.

Frank Alexander
03-Aug-2014
Here's a list to which you may take exception: Goodread's Best of the 40s.
www.goodreads.com

Frank Alexander
03-Aug-2014
Vote Betty MacDonald for new Puget Sound passenger ferry name!

Dixiebellahodges
24-May-2014
From London, United Kingdom

I'm reading The Egg and I for the hundredth? time but this time aloud to my 95 year old mother. We're enjoying it a bunch. We live in Sequim, not far from Chimacum.

Very happy to be a member of this forum as I have loved all of Betty Macdonalds books for more years than I care to remember!

I'm new to this, and came across this site while looking for information for my radio program. I work for Spokane Public Radio, and am co-producer of The Bookshelf. We read books on the radio, and I would love to broadcast The Egg and I, but I need p

Frank Alexander
18-Apr-2013
Suggestion: Why not broaden the focus to include commentaries on Betty M's influence on her contemporaries and the reverse. Who influenced her; whom did she influence?

Frank Alexander
25-Mar-2013
Thought the members might be interested in a good reason to visit Vashon; see the reactivated Calendar with a May art tour event.

It's been a very long time since I visited the Betty ssite- I am re-reading Anybody Can Do Anything ( for the 10th time at least) and it sparked my interest in Betty all over again. Anyone know anything about that creepy character, Dorita Hess?

PattyPacificNorthw
09-Mar-2013
I have 3 Betty Macdonald books I'm selling. I'll post this in the discussion forum

interested in knowing if it is possible to saty at Betty and Don's old house on Vashon Island ?

I am still looking for a copy of 'Anbody can do Anything'- not had many luck to date.

I first read the Egg and I when I was 12 (many years ago!)and discovered Betty's world, a far cry from Engand. We now live in beautiful Victoria BC and I look forward to joining Betty's 'family'.

I have six copies of 3/12/08 Seattle Times with extensive Betty M article @ $5 plus shipping. Use message form on my profile for more info. Proceeds benefit FOBM.

I have over many years read and re-read Betty MAcdonald's books and have just bought 'Much laughter a few tears'.

I have opened Betty after so long time and foud it just wonderful.

Frank Alexander
10-Jul-2012
Clark Internet Publishing, "friend of Betty MacDonald" since 2002.

HAPPY NEW YEAR, BETTY FANS!!!

Re-reading The Egg and I. It's so amazing to "find" new tidbits I missed. Betty was so "in her element" with that first book. Must look at the photos again to see the old farm, just for reference!

John Crawford
23-Nov-2011
Getting ready to start work on the December newsletter so, stay tuned!

Happy Halloween everyone!

Fall has arrived in San Diego! Love the nip in the air and the little bit of rain we got yesterday!

Newsletter coming out today or tomorrow - can't wait!

John Crawford
14-Oct-2011
still at work on the October newsletter. I will have it in everyone's email box shortly.


Loving Betty's Facebook responses! Don't forget to Friend her if you are on Facebook, too!

Frank Alexander
06-Oct-2011
Don't forget you can send private messages to other members. Just sign in; list members; choose one; see "write to..."; send.

Newsletter coming out soon. Hope everyone enjoys this SPECIAL edition!

Frank Alexander
26-May-2011
Try posting an update on your personal profile page. It will be echoed on the home page.

Be sure to check out Betty's page on Facebook!

Still keeping busy my mother now lives close by so plenty to keep me occupied.

annielaurievida
26-Mar-2011
Happy Birthday Betty, From all in North Wales

Thanks, Suz. I'm sure you're right about Port Townsend, but is there a railroad that would have planned to end there about a hundred years ago?
Another question: where is Betty buried?
Thanks for your help.

Kathryn Mason
27-Sep-2010
Hello everyone,
I am a brand new member of this website and am delighted to find it! Betty MacDonald has been my favorite author (along with Mark Twain) for many years. I am having trouble with this browser so will write more later.

Hi my daughter is still at home and my son has just come home again. We keep putting our plans for down sizing on hold

RicktheLibrarian
04-May-2010
Moved just across the inlet from where Betty lived. Travel in "her" area quite often.

Jeff Costello
01-Mar-2010
Just read Anybody Can do Anything for the fourth time, The Plague and I for the third

I have been reading and rereading Betty MacDonal books since 1958! I am so happy to have been introduced to this site.

did make me laugh. I'm so glad I've found Bettyand I would say Hi to all her fans

I'm a new member. I was visiting in Seattle and bought The Egg & I . I live in Scotland . My younger son lives there and when I'm over I visit Wessel & Lieberman bookshop and have made a collection of ealy settler's books but I must say thEgg really

annielaurievida
05-Nov-2009
Hi all, This is the first time i have posted on this site.
I felt compelled to do so after i realized i have read Betty's books in order six-times in a row again.
I love this site as it makes that "end of a book" feeling go away, and the story...

Testing FOBM message center.

Great to have some new items for the site. Don't miss the Find A Grave link for Bob's final resting place!
www.findagrave.com

I got married and I have a new last name


Barbara Gauge
22-Aug-2009
I first read the Egg and I aged 15 from the school library. Am now 61 and have managed with great difficulty and searching of second hand bookshops and e-bay to collect all Betty's books and those of her sister Mary Bard. How I would have loved to...

Rebecca Gorlin
15-Aug-2009
How can I get the CD and DVD interviews with Betty MacDonald?

Great to be back and see new things on the site.


Eleni Griffiths
28-Jul-2009
Home on the wheat farm in rural South Australia, am huge fan of BmacD, am reading Egg for the 12th time and loving evry minute.


nicola carroll
28-Jul-2009
Just finishing the plague and I again! and looking forward to getting The Egg and I and Anyone Can Do Anything.

wearing self out on 2 acres dividing and transplanting

darlene smith
21-Jun-2009
I am enjoying another reading of Nancy and Plum. I have read this many times, several of them to my 5th grade class. I never cease to enjoy the characters and the setting.

I live in Somerset, Ky and wonder if anyone else here lives in Kentucky.

Finally have received the info from the Postal Service regarding the commemorative stamp program! Time for letters, fans!!!!

Just found this wonderful site! Who knew? Have been a fan for more years than I care to think of!

Your fearless leader (uh, that's me) has moved back to Sunny San Diego! Lovely to be back, all the way around!

Just finished reading the BM series again - amazing wit. I guess everyone really smoked that much back then. Does anyone know anyone else who writes this kind of wit? Authors?

John Crawford
17-Apr-2009
Still doing my reasearch on Betty MacDonald... a never ending project.

John Crawford
01-Sep-2005
well fall will soon be upon us. I have started my fall classes, Anatomy & Physiology, Medical Termanology and, and Physical Anthroplolgy (a class I took just for fun). I have to dissect a fetal pig this term, thank God I grew up on a farm.