| | | |
| --- | --- | --- |
| | Popular Press | June 19, 2019 |
Vashon Island Years Recounted in Local Arts Magazine

In 1988 a "Betty" retrospective appeared in Vashon Allied Arts'
Arts News
including the articles reproduced here. The
publishers
have graciously allowed us to reproduce and preserve this view of Betty's life on the island. Each titled section below appeared as a separate article. FOBM presentation prepared by Cathy Bredlau, Shannon, and Frank Alexander. Comments are welcome in the
Forum
(registration is required). We especially welcome comments by Vashon friends.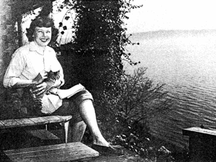 Vashon Island Was Home to Betty MacDonald
Betty MacDonald rocketed to fame in 1945 with her book The Egg and I. which soared to the top of the best-seller list and stayed there. Her books are read in dozens of languages, and devotees still arrive on Vashon Island, looking for her home, a museum, or even a shrine. Her first book has finally been reprinted in recognition of its enduring appeal.

Fifteen years after walking away from her first marriage and the chickens that dictated her life for four years, Betty received a phone call from her sister, Mary.

"Get an outline ready for a book by tomorrow! I have some publishers coming over," she instructed Betty protested, but her sister, a writer, prevailed. The resulting book is dedicated "To my sister Mary, who has always believed that I can do anything she puts her mind to."

The Egg and I with its rollicking humor and backwoods adventures, hit the bestseller list in its first week of publication. Less than a year later, the ebullient author, featured in Life magazine and feted from coast to coast, presented the gold bound, 1,000,001st copy to the governor of Washington, Man C. Wallgren.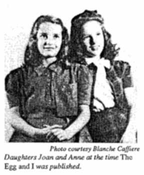 Varied Life Inspired Betty MacDonald
Author Betty MacDonald, whose sense of humor delighted readers around the world, was born in Boulder, Colorado on March 26, 1908, to Darsie and Sydney Bard. Her father, a mining engineer, led the family from one mining project to the next in Mexico, Montana, Idaho and Washington. Eventually they settled in Seattle.

In The Egg and I, published in 1945, Betty tells of her marriage at 18 and the trials of carrying out her husband's dream of running a chicken farm in the 1920's. Betty could see the humor in every situation, and the stories she had told to friends for years soon flowed onto paper.

Their farm in the Chimacum Valley on the Olympic Peninsula had no electricity and no indoor plumbing. A recalcitrant wood stove made heating the house and cooking meals a major undertaking. When there was money for improvements, the chickens got first priority.

Betty soon learned to hate chickens. "Even baby chickens. Their sole idea in life is to jam themselves under the brooder and get killed; stuff their little boneheads so far into their drinking fountains they drown, drink cold water and die...and peck out each other's eyes."

After four years, Betty left Robert Heskett, taking their two daughters. Anne and Joan, with her. She returned to her family home in Seattle. She held a variety of jobs, including that of the first female labor inspector in the U.S. Stricken by tuberculosis, she entered a sanatorium; in less than a year she returned to her full and active life. She later turned the experience into a book, The Plague and I. told with her usual humor and good spirits.

In 1942 she married Donald MacDonald. To their delight, they found a beach home on Vashon Island and gaily moved in, relaying their belongings by borrowed rowboat from the nearest driveway and amiable neighbor.

"It has ship's timbers for floors, and cathedral ceilings. But it was built originally as a summer home, and it was cold!" recalls Betty's daughter, Joan MacDonald Keil. Cavernous fireplaces demanded mountains of wood. Joan remembers her mother typing in the cold, wearing gloves with the fingertips cut off.

Although money flowed in from the success of The Egg and I, it quickly flowed out again. The girls lobbied for a blast furnace. A driveway replaced the 1 ? mile trail to the main road. They bought ten adjoining acres, and Don invested in Betty's nemesis: chickens. Soon 3,000 white leghorns pecked, laid and roosted on the Vashon property. To prevent them from attacking each other, Don fitted them all with eye glasses designed to keep their attention focused on food, relates Joan.

Betty kept writing. ("She wrote frantically against advances, trying to keep up with the bills," says Joan.)

The Plague and I was published in 1948; Anybody Can do Anything followed in 1950. Onions in the Slew. published in 1955, tells of life on Vashon; when it hit the book stands in London, it sold 64,000 copies in less than a month. Her books were translated into more than 30 languages.

Betty also wrote for children. Originally refusing to print her still popular Miss Piggle Wiggle books, her publisher, J. B. Lippincott, capitulated when she threatened to stop work on her "adult" books.

Of the first of her four Miss Piggle Wiggle books, she said in a Seattle Times interview,"I had so much help (from children) that I almost never got it finished. Most of my best writing has been done to the accompaniment of heavy breathing, sniffing and fat hands reaching up and poking the wrong key of the typewriter.....

Nancy and Plum is a book that can still bring tears of laughter to young readers. The book; reprinted several years ago by Joan, evolved from a continuing story Betty told her daughters at bedtime, perching on the end of a bed.

"I was Plum. My sister was Nancy," Joan explains. She formed her own publishing company in l982 to reprint Nancy and Plum and prove there was still a market for her mother's books.

Betty never changed, despite the quantum leap in her income. "She still wore sweatshirts and jeans and fed the chickens and did the ironing," Joan says. "She loved having company and doing things for her family and friends."

Eventually, Don persuaded her to move to California. They bought a 3,000 acre cattle ranch in the Carmel Valley, and Betty stayed behind to sell the Vashon house and their "town" house in Seattle.

Betty joined Don on the ranch in 1956, and continued to write and enjoy her friends, family, and grandchildren. On February 7, 1958, she died of cancer in Seattle at age 49.
Vashon Then and Now
By Bill Speidel

Following is what Vashon looked like to Betty MacDonald in the early 1950's as taken from her book Onions in the Stew.

"The town of Vashon, quite a typical western crossroads settlement, is small, flourishing, friendly, adequate and tacky. It has a bank, library, bakery (that bakes the most delicious bread in the world), two restaurants, shoe store, movie theatre, ice cream store, television shop. radio shop, state liquor store, bowling alley. drugstore, two hardware stores, two grocery stores, beauty parlor. variety shop (combination dry goods and ten cent store), two dress shops, two doctors, two dentists, an optician, a community club, several real estate offices, a funeral parlor, three gas stations and car repair shops, a post office, print shop and newspaper office,. a bulldozing and heavy equipment contractor. a furniture store, cleaner, barbershop, taxi, beer parlor, florist and of course its generous complement of churches."

In 1988 we have three hardware stores instead of two, and Vashon Hardware has also become an old tool museum. The Vashon Memorial Library is now the Senior Center', and we have a brand new fancy library down at Ober Park. The old Winge residence now belongs to King County Parks, and the Odd fellows Hall bas now become the Blue Heron Center' for the Arts. Lisabeula has been made a historic site, but the people of Docktown voted down the opportunity to become a historic site.

When the new grammar school was built there was a contest for naming it which drew a lot of entries. But the one that won, that is the one that really gets me...it was Vashon Elementary School.

A survey was taken by Vashon Civic Assembly, which was ca1led Operation Jigsaw, to determine how the island should look in the future. It came out that the folks wanted it to look about the same.

Nobody uses the Vashon Landing which used to take our strawberries to the mainland. That was back when we had Vashon strawberries for the strawberry festival instead of importing them from someplace else.

We were the biggest egg producers in the county which resulted in a great deal of fertilizer for the strawberries. The man who had the fields also had a contract to serve as the school bus. This meant that before and after school he carried the necessary chicken fertilizer and when he was carrying children it was necessary to sweep the bus out and pot in a couple of benches. Now we have school buses that are school buses.

So you see 38 years later it is hard to decide if we are winning or losing. We have lost the taxi and the shoe store, but if you are over 65 you can play lotto at the Senior Center...

Are we still, as Betty MacDonald saw us, small, flourishing, friendly, adequate and tacky? My vote would be yes.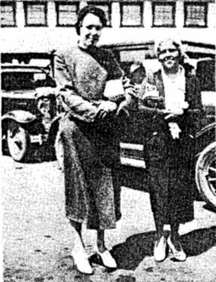 School Chums Form Lifelong Friendship
By Blanche Caffiere

Betsy's hand was always raised across the room from me in Miss Taggart's Latin class at Lincoln High School in Seattle in 1920. I was fascinated with her from the start. I sensed she was somebody special. She had reddish brown hair and hazel eyes, and braces on her teeth. Braces were quite avant garde; no one else I knew wore them.

Betsy frequently wore a blue chambray dress, Norfolk style. One day after we became friends she confided that it was her uniform from SL Nicholas, where she and her older

sister, Mary, had gone the previous year. After her father's sudden death, they had transferred out of private school to economize.

Betsy, she told me, was her nickname; her real name was Ann Elizabeth Campbell Bard, Later she changed her name to Betty, thinking it had more dignity, but afterwards she wished she had stuck to Betsy. She enjoyed the colorful stories I told about my big brother, and one day, close to Hallowe'en, she said, "My mother would love your stories; could you come home with me to dinner?"

We ran across the street to use the phone at Baughman's beanery where all the "in" kids hung out and made arrangements. My mother always let me do anything I wanted, as long as it was moral. When I wanted to swim in Green Lake in mid-winter, she said, "If you are that foolish, go ahead. I wouldn't want to do it, but the angel of the wild things takes care of you."

That evening, instead of taking the Green Lake streetcar, I went with Betsy on the Wallingford. We transferred at 45th and University Way to the Laurelhurst bus, which seemed to be carrying only school kids.

Then, as now, Laurelhurst was the poshy place to live, and I felt very "swishy" rubbing elbows with these kids. The bus wound around all the hills, delivering each one.

At the end of the line was The Pallisades: no paved streets; open fields; a cow tied to a tree; all very rural. And there stood the white Victorian house where the Bards lived. Mrs. Bard, or Sydney, as she asked everyone to call her, greeted us at the door. She was smartly plain, tall and thin with patrician features, and extremely warm and charming.

In the big country kitchen, Sydney's mother-in-law (known as Gammy) was holding forth in her white ruffled apron and little white "boudoir" cap worn by many women in the twenties. The door to her small bedroom was open, revealing her rumpled bed and her treasures scattered about. In the spacious dining room, I was enchanted to see the big oval table partially' set with a sizable Hallowe'en favor at each place, ordered from Augustine and Kyer's, the famous Seattle grocery store located at First and Cherry. It made me feel very special! When we sat down to the table, Sydney was at the head with beautiful Wedgewood platters of food and an impressive carving set. Gammy preferred to eat at the drainboard in the kitchen where it was peaceful. When Mary arrived a little late with an unexpected guest, another place was added with no ado. There was a lot of talking and laughing, and soon Betsy said, "Blanche, tell Mother about the time you got stuck in the tar." I rallied to a story-loving audience.

After dinner, some boys came to pick up Mary and her friend. Betsy and

I were overwhelmed with Mary's popularity, when all we had were out Honor Society pins. Anxious to be as genial a hostess as her sister, Betsy invited me upstairs to see Mary's

formals. Such an array of long dresses of every color! Betsy chose a pink one and said, "Try it on."

I had never worn a formal. Quickly I slithered out of my navy blue school stuff and wriggled into this shimmering, satin gown. Betsy then chose a yellow one and we preened in front of the mirror. Caught up in this party ambiance, Betsy said, "I'll call Ted Sutton. His dad lets him drive their car, and he can bring Bunny Redman." I sat in amazement while these plans jelled.

In a few minutes a big Franklin car stopped in front. After greeting Sydney, the boys ushered us into the back seat of the car. They sat in front and discussed the dashboard, completely oblivious to our gorgeous attire.

"We can go anywhere..."

Ted said, "The gas tank is full and we can go anywhere, but I have to be home by eight" We headed for the U District and drove up and down "the Ave" gazing out at the poor peons who had to walk. Then Betsy suggested we drive out to Willard's Roadhouse, a few miles north and the ultimate in night life. We cruised through the circular driveway, and headed back. I happily visualized myself telling the Green Lake kids about out trip to Willard's, on a school night

We played cards until bedtime, slipping into twin beds at 10 p.m. We had barely gotten settled when Mary came whirling in, bright-eyed and glowing.

"Guess what, Betsy? Ray kissed me good night!"

I was surprised at her frankness. Betsy, exhilarated over the progress in Mary's romance, said, "I'm not sleepy. Let's go down and make fudge!"

Was there no limit to the entertainment my hostess could provide? Formals, boys, a car, a roadhouse, and now fudge! At our house, getting out of bed to make fudge would be the height of idiocy.

...lots of fun and no sleep.

We began rattling pans, opening sugar sacks and milk bottles, and in came Gammy in her white nighty with long sleeves and ruffled cuffs. I thought surely she had come to put an end to the project, but no, she helped stir the fudge. We took the pan upstairs to eat it in bed, and when we felt icky we turned over and went to sleep.

Too soon Betsy announced it was time to catch the bus. We grabbed some food and ate it on the path, as we jostled our untouched school books under our arms.

The bus was a jolly place with lots of talking and tussling. As we settled into our seats on tile bus I timidly asked, "What about our homework?"."Oh, we'll get to it right now," Betsy answered lightly. And she opened her algebra book, figuring the problems out loud. For a fleeting moment I longed for the quiet dining

room table at home and the lamp beside me.

When we transferred to the Wallingford streetcar, Betsy announced that now we would get our Latin. I always wrote my translations in a notebook, but she said we would keep it in our heads. "If you raise your hand a lot for the stuff you know, then Miss Taggart won't call on you for what you don't know," she advised, revealing her classroom strategy.

I was discombobulated all day, but going home on the streetcar brought me my reward: I told about my night with Betsy and watched the growing admiration of my prosaic Green Lake friends.

I visited the Bards many times after that. There were moonlight swims in Lake Washington, waffles at midnight made by Sydney, lots of fun and no sleep. After two years at Lincoln, we transferred to the newly built Roosevelt High School and both graduated in1924.

Our paths took different directions again for a few years. But after Betsy had become Betty, had married and had two little girls, she moved back to Seattle and was living with Sydney again. We met on the streetcar and she invited me to drop in to see the family. It was not far from my mother's place, and I visited frequently.

We were still laughing together...

Betty was still urging me to tell my little anecdotes, and she had plenty of her own to tell about life on the chicken ranch. We were still laughing together at life's little foibles.

It was at the Bards' hospitable table, with Sydney presiding in her queenly manner, that I met my husband-to-be, Keith Hutchings. Betty and Mary planned our announcement party.

Soon after our marriage, we moved to Portland. Keith joined the Air corps when World War II broke out, and I moved to Vashon Island with our two children. I was soon drafted into teaching at Vashon Elementary School as many of the teachers were leaving to work for Boeing where they made more money.

One morning, who should come down the hall but Betty and her daughters, Anne and Joan. Betty had re-married and moved to Vashon, and was enrolling the girls in school! Our friendship picked up once again, and I was with Betty a lot while she was writing The Egg and I.

Later, when she was in the throes of cancer and much hospitalization, we talked by phone and at her bedside. The last time we talked was a week before she died. Her voice was weak, but she teased me in the cute way she always did. She was very funny. But when I hung up the phone, I didn't know whether to laugh or cry.

No chickens roost in the barn today

The huge barn built by Don and Betty MacDonald, now painted traditional red with white trim, stands on a bluff overlooking Puget Sound. At one time, the MacDonalds kept 4,000 chickens in the adjoining chicken house and marketed the eggs on Vashon Island and in the Pike Place Market.

The barn has since been remodeled and has served as home to a succession of families. Current owner Judith Lawrence and her husband Bart Klein live there now and treasure the peacefulness and privacy it offers.

When Judith bought the barn and six acres of woods, orchard and fields,

she immediately set to work planting shrubs, flowers and trees. In the spring,

hundreds of bulbs create an explosion of color. Her apricot, plum and walnut trees are already well established. In the orchard, she dreams of restoring the continuous canopy of interlocking branches with clouds of swing blossoms that existed in the MacDonald's day.

Improvements and maintenance on the barn are continuous. Insulation, rewiring and a new roof are all part of the process of keeping it habitable..

The main living space is two flights up, where tons of grain were stored for the chickens. Cedar paneling lines the walls, and a bank of windows faces Puget Sound and Mt. Rainier. The sliding door through which the grain was delivered can be thrown open on hot summer days.

On the ground floor, firewood stands ready to be hauled upstairs. Everlasting flowers fill baskets and hang from the walls, along with wreaths of twisted grape vines. Gardening tools and buckets of bulbs await their turn in the garden.

Don Woodfin was the young builder hired by the MacDonalds in 1949 to construct a bam "in the style of the1900s". Working from his own drawings, he completed the barn in 18months, in addition to the adjoining chicken house and caretaker's cottage.

Betty told Woodfin he was included in her book, Onions in the Stew, as the "unforgettable ex-Marine character." As of 1983, he had still not read the book, but hoped to some day.
Chimacum Valley Remembers Betty
Betty MacDonald is well remembered in the Chimacum Valley, the setting for her first book, The Egg and I. Tourists driving along Egg and I Road try to spot landmarks from the book. Locals all know that the towns of Crossroads, Town and Docktown described in the book are really Chimacum, Port Townsend and Port Ludlow.

The road runs past the property where Betty raised chickens with her first husband, Robert Heskett. The house and outbuildings described in the book no longer exist, and there is not a chicken to be seen. But Jess and Pat Bondurant keep cows on 20 of the original 40 acres purchased by the Hesketts for $450 in 1927, according to an article in the Bremerton Sun.

Further east, the road passes the property where Albert and Suzanne Bishop lived. Claiming libel, Bishop and eight of his relatives filed a lawsuit against Betty MacDonald for half a million dollars. They said the numerous and unkempt Kettle tribe so vividly described in the book was based on their family. Standing room only crowds attended the proceedings, which went on for days. The defense asserted that the author worked from memory and imagination to create composite characters, and the suit was dismissed.

The Bishop's son, Art, 75, lives on the family homestead with his wife, Olive. He and his sons operate a dairy farm, and according to the Sun, he remains bitter about the book. Not only did his parents work hard to support their large family, but they helped the Hesketts get started, he says. The Egg and I was recently republished in hardbound by Harper and Row. A paperback edition was released in September. This is good news for MacDonald fans, who for decades have had to scour used bookstores in search of her books.
Betty Inspired Czechs
Dusan Hutla, a visitor from Prague. graciously offered to write an essay on Betty MacDonald and what she means 10 the Czechoslovakian people. His daughter, Zora Nedoma, a Seattle resident, provided the following translation.

Czechoslovakia is a small country, located in the heart of Europe. The Czechs and the Slovaks have long rooted cultural traditions. They eagerly read literature from around the world and appreciate good stories and quality writing. That is why the books by Betty MacDonald are so beloved here. Her sense of humor won readers' hearts for its unpretentiousness and sincerity.

Many of her novels have been published several times in both languages. Czech and Slovak. The Egg and I can be found on bookshelves in thousands of homes in Czechoslovakia. Three of her other works - Anybody can do Anything. The Plague and I and Onions in the Stew - were published in one volume under the title All That Life has Given and Taken. One of the strongest and emotionally most touching passages, I found, is her description of her stay at a TB sanatorium in The Plague and I. Whenever there is a problem, she never pities herself or despairs. She always looks at life with the hope and faith that things will turn out for the best

I believe that it was this ability that brought her such unbelievable success with Czechoslovakian readers. She knows how to convey her unbeatable faith in human beings who don't give up. No matter how bad the circumstances may appear, she overcomes the obstacles, thanks to her essential humanistic wisdom and everlasting sense of humor.

No wonder that when I visited my daughter during the beautiful Seattle spring ('87) and discovered that Vashon Island is only a stone's throw away, I simply had to visit Betty MacDonald's farm. Our very dear friends found out all the needed information, and a gentleman at a local Vashon real estate office very willingly described the way to the estate.

We were all very lucky. While munching on the heavenly pastries in the downtown Vashon bakery, we got acquainted with the present owner of the estate, who told us further details about Betty's farm. It was quite an experience when we walked through the places where some of those beautiful stories were born. Our trip was unique and unforgettable. I cherish my photographs and have shared my memories with many truly interested friends in Czechoslovakia.

Ed: The former Czechoslovakia was divided into Slovakia and Czech Republic in 1993. Perhaps someone will comment on the relative popularity in the Czech and Slovak languages.
Student Enjoys (MacDonald) Books
By Ginger Hall

Ginger Hall is a sixth grader at Vashon Elementary School.

"I like Betty MacDonald's children's books because I like to read about other kids and their problems. In the Miss Piggle Wiggle books, the children almost always have a bad habit they can't break. Miss Piggle Wiggle solves their habit.

In Nancy and Plum, two little orphans are always blamed for everything, until they run away and are adopted by a kind old couple.

I think other kids like the books for the same reason, and also just because they are fun to read!"